Goossens history
Chocolaterie Goossens was founded in 1955 by Réne Goossens.
After completing his studies, he specialized in several chocolate-making activities in Switzerland and France. Rene Goossens has acquired outstanding reputation in the world of chocolate. He is a honorary member of the Confrerie des Chocolatiers de France, and serving as the National President of the Federation of Belgian Confectioners from 1977 till 1989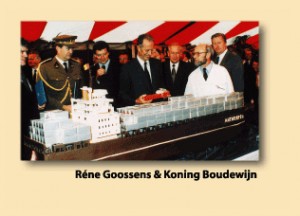 . Rene Goossens is the author of the best seller "Chocolate Codex".
Erik Goossens became owner/manager of the company in 1991. He specialized his skills by Bernard Callebaut in Canada, Barry Callebaut in Belgium, ZDS Solingen in Germany and Ecole Gastronomique Bellouet in Paris, France. Together with his his permanent staff, he was able to grow the business rapidly with. Erik Goossens has one goal, making the highest quality chocolates possible. His philosophy resulted in happy clients such as presidents, royalty and ambassadors around the globe. Erik is member of the jury for the famous Belgian "Chocolaterie Awards" contest.

Many famous chocolatiers are renowned for their master skills yet only a handful can be recognized and remember as well for their master pieces.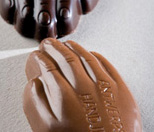 In May 1982, Rene Goossens proudly presented his creation the 'Antwerp hands'. These chocolates with almond paste and Elixir d'Anvers made the cover of every newspaper and became the best known Antwerp chocolates. Original idea from the old legend of Antwerp, the chocolate artisan has made his Antwerp hands into a 'symbol of friendship and hospitality'.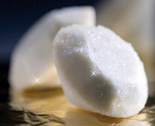 Antwerp is the capital of diamonds in the world. The 'Brilliant' candied diamond, is probably the most complex creation by Chocolatier Goossens. It has a sweet crispy outer layer and a bittersweet champagne truffle filling on the inside. However, what makes this chocolate so wonderful are the sugar crystals that twinkle like a real brilliant under the halogen light. This effect is only possible after an extremely delicate and time-consuming procedure, unique in the world.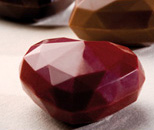 The series of sparking hearts with facets like a cut diamond has three thin ultra crispy layers of chocolate enveloping a soft core with a surprising combination of flavours: simply sensational!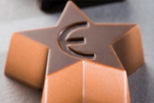 This European star was created when Belgium first became a member of the European Union. This patented shape has a light truffle filling, flavoured with ground walnuts.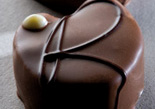 This chocolate in the shape of a painter's pallet was created in Rubens' memorial year 1977. It consists of a praline made of walnuts, enrobed with a 'single origin' Java milk chocolate and topped with an elegant 'R' dark chocolate. All made by hand, of course.