Contact Chocolatier Goossens
---
Chocolatier Goossens
Isabellalei 6
2018 Antwerp - Belgium
Open from monday to saturday
from 09h00 to 18h00.
Tel: +32 (0)3 239 13 10
Fax: +32 (0)3 239 13 10
info@goossens-chocolatier.com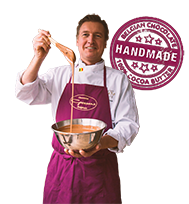 Road description

Chocolatier Goossens is located on the square "Verdraagzaamheidsplein": junction Isabellalei/Lange Leemstraat (around the corner of the Sint-Vincentius Hospital).
From the centre of Antwerp:
Follow the avenues (Leien) to the Nationale Bank on the Frankrijklei, after which you can turn into the Lange Leemstraat (+/- 300 m).
From outside Antwerp:
By car:
• Take the Singel until you reach the Generaal Lemanstraat (end of HighWay E19 from Brussels);
• Follow to the city centre (passing a park on your left side);
• Continue driving on "Mechelse steenweg" direction city center;
• Cross a big intersection(Belgiëlei);
• Continue on Mechelse steenweg until the next road;
• Turn right into the "Sint Thomasstraat";
• At the end turn left into the Sint Vincentiusstraat.
You can park at the end of the Sint-Vincentius street or in the underground parking of the Sint-Vincentius Hostpital.
By public transport:
From the Antwerp Central station take the underground Tram 2, 6 or 15 and get of the second stop "Lange Leemstraat" after the tram leaves the underground.
It is just a 1 block walk into the lange Leemstraat direction city Center until your destination.
• Lange Leemstraat – Tram 4
(Stop Sint Vincentiusstraat)
• Belgiëlei

–

Tram 2, 6 & 15
(Stop Lange Leemstraat)
• Belgiëlei

–

Bus 295 & 297
(Stop Lange Leemstraat)