Chocolate in Excelsis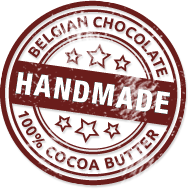 To Thrive in the chocolate capital of the world, Either there must be a difference, or simply the result of being only satisfied in delivering superior top-quality.
2 generations of real "maître chocolatiers" with a passion for chocolate that managed to impress Royals, Presidents and Ambassadors around the globe.
Even the most discerning of chocolate connoisseurs will be suitably impressed.
Indulge yourself, your friends or your business contacts.
Remember: chocolates make an ideal gift for any occasion!